Damon Anderson Memorial Scholarship
Supporting Future Generations of Land Information Professionals
The Wisconsin Land Information Association (WLIA) Foundation, Inc. has established the Damon Anderson Memorial Scholarship Fund to help students working toward a degree related to land information (such as geographic information systems, geography, and urban planning). This scholarship is funded through donations from private individuals, organizations, and other funding activities of the WLIA Foundation, Inc.
Each summer we award several $1,000 scholarships for the upcoming academic school year, along with a one year student membership in the Wisconsin Land Information Association.  Recipients will also receive recognition and free registration to the annual conference.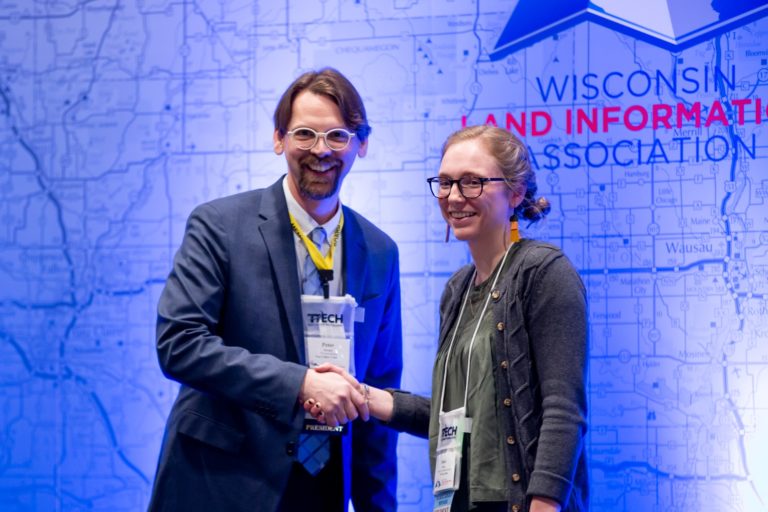 ---
Josie Myers, one of the 2019 Damon Anderson Memorial Scholarship Winners, pictured with former President Peter Strand.
Applications shall include the following:
A properly completed application form, linked below.
Two (2) reference letters submitted via the LOR@wlia.org email address on the application, from two (2) persons, one of which will be from an advisor/instructor, unrelated to the applicant that addresses the applicant's academic ability, professional potential, applicable work experience, community service, extra curricular activities, financial need, or any other relevant information that supports the candidate's application.

---
Applications will be evaluated on letters of recommendation, academic achievement, financial need, extracurricular activities, involvement in organizations and the applicant's personal statements.
Questions can be directed to Carmen Novak, 2022 WLIA Scholarship Committee Chair.
All documentation must be received by June 17, 2022 to be considered. Complete the application for the 2022-2023 academic year below: