WLIA Foundation
The mission of the WLIA Foundation, Inc. is to provide educational opportunities, materials, and scholarships that further promote the development and use of integrated land information systems.


---
In 2004, WLIA created a scholarship fund that has been used to help Wisconsin students further their goals in the land records profession. We formally named the program the Damon Anderson Memorial Scholarship fund after a man who was a leader dedicated to the education of students of all ages.
In the past we have raised money for scholarships through our popular 50/50 raffles and silent auction. These are wonderful tools and they will continue; however, we need more stability in our income to ensure we can continue to provide aid even in times of recession when students need the help the most. In 2020 The WLIA Foundation contracted with Community Foundation of Central Wisconsin to set up an endowment fund.  The CFCW's core focus is to work with groups like ours to provide scholarships and grants through non-profits like WLIA. They will help manage the Foundation's investments so we are prepared for our future.
The WLIA Foundation's initial goal is to raise $25,000 for the endowment fund.  This will ensure that we can give at least one scholarship every year in perpetuity; our hope is that we can grow our fund and continue to support future generations of land records and geospatial professionals!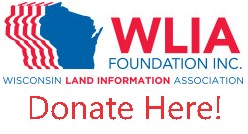 Looking for other ways to donate?  Use this form to make a cash or in-kind donation to the WLIA Foundation.
The WLIA Foundation, Inc. is a tax-exempt organization under IRS Section 501(c)(3) established to accept funds towards our scholarship program. The Association holds a silent auction during the annual conference, and 100% of the funds raised are awarded to Wisconsin university/college students each year. If you would like more information please contact Ann Barrett.