Fall Regional Spotlight: Focus on History
Date posted
September 23, 2022
As we move into fall, it's time to look a little closer at all the great content we have lined up at the Fall Regional Meeting in Sheboygan on October 26-28 at the Blue Harbor Resort!
Humans tend to like new shiny things, but many of us also see the value of the past. The Fall Meeting brings us three different presentations on capturing and sharing historical information.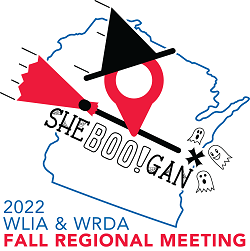 Jim Lacy (SCO) and Jaime Martindale (Robinson Map Library) showcase their efforts as a result of their agencies' fifty year partnership. Many of us have perused the Wisconsin Historic Aerial Imagery Finder website to find historic images or help our customers with their research. There is a new focus to acquire 50s and 60s era federal scanned imagery as well as other images as they become available. Jaime and Jim will educate us on this project and future plans for making these images accessible to those who need them.
Aaron Sale of Ayres Associates will likewise discuss historical imagery and how to find it. He'll explain how these images can be georeferenced into a county-wide mosaic that can be utilized in today's map viewers right along side the latest and greatest. If you've got some imagery laying around and wondering what to do with it, this talk might be just the thing you need to jumpstart your project.
Finally, Felipe Avila from the Wisconsin Historical Society will explain to us how new technology helps us discover old. Archaeologists have three tools - Research, Field Work, and Technology. Learn how the last tool, previously an afterthought, has come to the forefront as all three work together to form a more complete picture of the past.
For more details on the agenda, registration, and hotel information, visit the Fall Regional Event Page. Make your reservation by September 28, 2022 for best availability. We hope to see you soon!