Fall Regional Spotlight: Technical Toolsets for NG9-1-1 and BAS
Date posted
October 5, 2022
As we move into fall, it's time to look a little closer at all the great content we have lined up at the Fall Regional Meeting in Sheboygan on October 26-28 at the Blue Harbor Resort!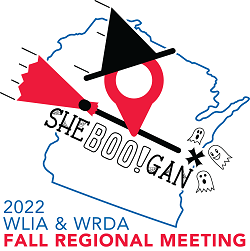 Are you looking to learn more about NG9-1-1 data preparation and cleanup? We have just the training for you! Join WLIA at our Fall Regional Meeting where we'll have a presentation titled, A Phased Approach to NG9-1-1 Cleanup, by Erin Strickler of Cloudpoint Geospatial. This session will take a deep dive into the Next Gen 9-1-1 transition and offer methods for keeping the process as manageable as possible. Toolsets and workflows for NG9-1-1 will be focused on. Don't miss this presentation, discussion, and idea sharing that will take place.
Next, there will be a presentation titled, WISE-Decade BAS Collection Tool: Future Changes, by Zach Robinson of the Legislative Technology Services Bureau (LTSB). This presentation will discuss the WISE-Decade BAS Collection tool used for collecting municpal boundary changes. This will include a high level overivew of the application and a sneakpeek into future changes.
Both of these technical presentations will be taking place on the morning of Friday, Oct. 28th.
For more details on the agenda, registration, and hotel information, visit the Fall Regional Event Page. We hope to see you soon!