Student/Young Professional Experience at the Annual Conference
Date posted
January 18, 2023
This year's annual conference has special content for students, young professionals, and members from all backgrounds! See below for special training sessions you won't want to miss!
---
New Member Orientation
8:00 AM – 8:30 PM, Thurs. Feb. 23rd
This quick session will welcome new members to WLIA. Maybe it's your first conference with us or maybe you're returning after many years. It's an overview of WLIA, how the organization operates, and fun happenings and initiatives. Members new and returning are welcome!
---
Esri's Hands-on Learning Lab
10:05 AM – 12:00 PM and 1:30 PM – 5:00 PM, Thurs. Feb. 23rd
The Hands-on Learning Lab (HOLL) from Esri will be set up in the Exhibit Hall. Laptop stations with Esri's walk-through lessons will be available. You can learn at your own pace and an Esri instructor will be nearby to help with any questions that arise.
---
12 Pre-Conference Workshops
9:30 AM – 12:30 PM and 1:30 PM – 4:30 PM, Wed. Feb. 22nd
Workshop topics include
1. Learn ArcGIS Insights: Drag-and-Drop Spatial Data Science for Everyone
2. UAV in Local Government
3. Legal Issues in GIS
4. Tips & Tricks - Editing in ArcGIS and the Parcel Fabric
5. Introducing SQLite for Spatial Data: The New "Personal Geodatabase"
6. ArcGIS Solutions: Address Data Management for 911
7. Data Visualization and Storytelling Essentials
8. Field Collection Tools and Methods
9. Parcel Fabric Editor's Workshop
10. A Surveyor's Take on Mapping Legal Descriptions
11. An Introduction to Cloud Native Geospatial
12. ArcGIS Online: Choosing the Right Web App
---
Did we mention there will be over 50 educational sessions across various topics, including addressing, remote sensing, parcel mapping, upcoming technology, archaelogy, enterprise, utilities, web maps, and more?! On Thursday, a track will focus on Student and Career topics:
GIS College Curriculum from a Student's Perspective (30 min)
Intermediate
Eli Norlander, Student, University of Wisconsin-Milwaukee
Hear from a student and intern about the curriculum that is being taught at one of the nation's premier GIS institutions. This presentation will combine experiences from lecture and labs with some project examples. Working a GIS internship helped me to pick up on the lecture materials far better than I would have without the hands-on GIS experience.
Mapping Your Future with GIS
Beginner
Joseph J. Kerski, PhD GISP, Education Manager, Esri
What skills, perspectives, and networks will be critical during the remainder of the 2020s and beyond? Join geographer, educator, and GIS professional Joseph Kerski in this lively session as we empower you with the directions that geotechnologies are heading and empower you to take practical steps as you journey forward. These include crafting your professional portfolio, personal and GIS skills to cultivate, organizations to connect with, and more.
Getting Certified: Becoming a GISP (30 min)
Beginner
Jami Dennis, Geospatial Consultant, Geodetic Analysis, LLC
This presentation will provide an overview of the GIS Certification Institute and the process of becoming a certified GIS Professional (GISP). It will cover what it means to be a GISP, how to prepare for the exam, and how to complete the GISP portfolio.
Then on Friday, we'll have the 2nd Annual WLIA Career Connections session
David Buehler, Sr. GIS Coordinator, City of Marshfield; WLIA Membership and Outreach Chair
Stop in for career advice, networking opportunities, resume reviews, interview and career search tips and tricks, mock interviews, and potentially real first interviews with employers. Open to all career levels, especially college students or those looking to break into the GIS industry. Hope to see you there.
---
Three keynote plenary speakers - you won't want to miss out on these messages!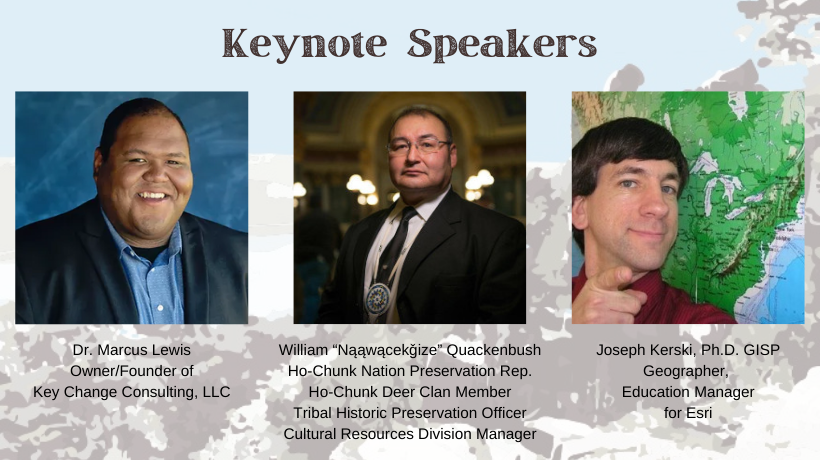 ---
Exhibit Hall
Network by stopping at each booth to chat with vendors, learn about technology and what each company or organization has to offer. Geospatial solutions and opportunities are just a conversation away! The Exhibitor's Receiption will take place on Thursday evening from 5-7 PM. This a great opportunity to meet everyone, enjoy some food, bid on silent auction items, and network!
---
Map and Poster Contest
The Map Gallery Opening is at 3:30 PM on Thursday, Feb. 23rd. This is another networking opportunity where everyone comes together to appreciate the maps and posters that have been submitted. Note the different categories and be sure to vote for People's Choice!
---
7 Special Interest Groups will meet simultaneously at 4:00-5:00 PM on Thursday. These are informal sessions with cross-discussion on the following special topics or interests:
Wisconsin LiDAR Data
Municipal and Utilities
Next Generation 911 WLIA Task Force
GIS Developers
Unmanned Aerial Systems
Small Business
Diversity, Equity, and Inclusion (DEI) - meeting at 7 AM Thursday morning