2023 Silent Auction Seeking Donations
Date posted
December 1, 2022

The 2023 WLIA Annual Conference Silent Auction is now seeking donations! Every year the silent auction raises funds for the WLIA Foundation that are used to sponsor scholarships for students pursuing degrees in geography, geospatial sciences and GIS. This year WLIA is setting a new goal of $5,000 in hopes of awarding up to five $1,000 scholarships.
WLIA needs your help in obtaining donated items. In the past we've received items including:
Sports tickets and Memorabilia
Beer, Wine and Spirits
Locally Crafted Artwork
Hotel Stays
Books
Cheese and Sausage Gift Boxes
Gift Certificates for Restaurants and Shops
Movie Tickets
T-Shirts, sweatshirts, and other apparel
Coffee Gift Baskets
Yeti Mugs and/or Coolers
Fishing Equipment
Drones
GPS Receivers
iPads & Kindles
Woodworking Art
Experiences from other WLIA members
And much more…use your imagination!
Our auction items will be featured on display in the exhibit hall at the Annual Conference but can be donated using the link here. Just fill out the information, upload a picture or two and we'll take care of the rest.
And, because we're map geeks who think spatially, we can't help but put together a map showing where donations came from last year.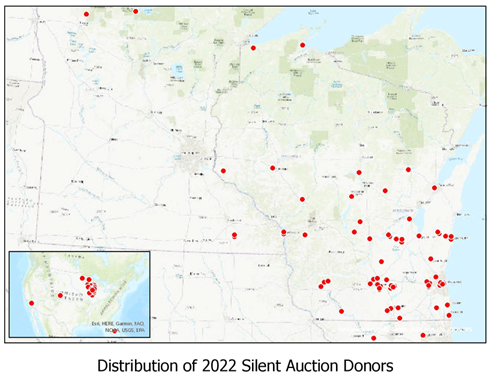 So, let's make the 2023 map busier with more dots. Help us reach our goal of $5000 this year and remember…
"It's for the Kids!"