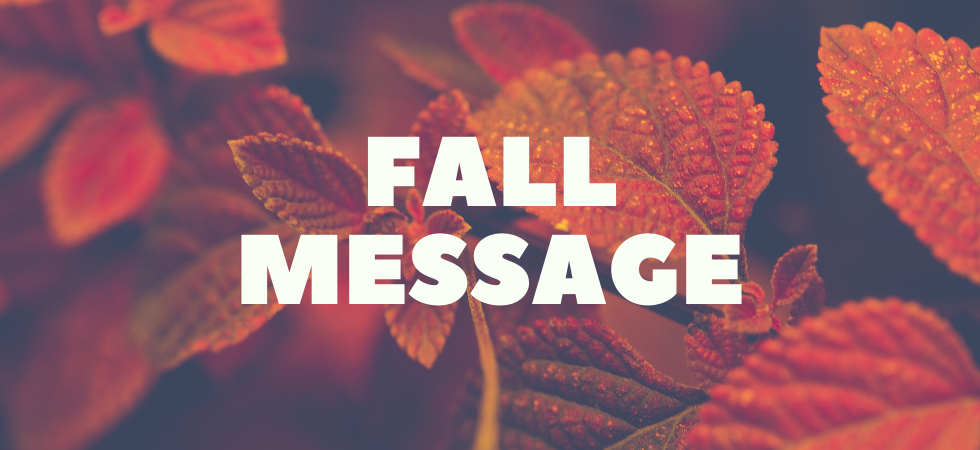 Hello and Happy Fall!
Time is flying by and we are now preparing for our Fall Regional Meeting this week — our first in-person event since early 2020. In terms of regional events, our last in-person regional meeting was two whole years ago in fall 2019 in Bayfield. The pandemic altered the world's operations and WLIA was no exception to that. While we've modernized and carried on with excellent virtual events, many are excited to resume with an in-person meeting and training this fall in Madison. If you still need to register for the Fall Regional Meeting, there is still time! New at this event: WLIA has adopted a Duty of Care policy to promote all individuals on-site, attendees, speakers, staff, and venue personnel remaining safe, healthy, and comfortable throughout our event. We will be working with the venue and following CDC and local guidelines for gathering. If you have any questions on this policy, feel free to contact us.
In other WLIA news, the deadline to submit nominations for board of directors and president is fast approaching — November 22. Serving on the WLIA board is not only fun, it's very fulfilling. Board members will learn about land information issues, help guide the organization, partake in networking, enhance their resumes, and more! If you or someone you know would be interested in serving on the board, please complete a nomination form. Additionally, award nominations can also be submitted. If you see anyone doing a great job leading the geospatial industry, be sure to nominate them for an award. Awards are presented at the Annual Conference in February along with the big reveal of newly elected board members.
Beyond the upcoming Fall Regional Meeting will be the 35th Annual Conference, taking place on February 23–25, 2022 at The Osthoff Resort in Elkhart Lake, WI. President-Elect Zach Nienow is leading the planning for the Annual Conference. Three wonderful keynote speakers have been confirmed, the exhibitor prospectus will soon be available, and the call for session abstracts is open. Before we know it, registration will be open and the agenda will be available too. If you are thinking of presenting, now is the time to submit your abstract and show off your expertise to our membership and wide array of attendees, which is typically over 400. There are many facets to planning a conference and I am confident that 2022 will be one for the books, so be sure to save the date.
WLIA committees have continued to carry an impressive workload this year:
The Communication Committee has been busy working on updates and solutions for the current website and publishing many of the news post articles you receive via email or through our social media pages. There is also a fun surprise from the Communication Committee that will be revealed closer to the Annual Conference – stay tuned!
The Legislative Committee, in collaboration with our lobbyist, has been tracking several bills in the legislative process; this is very important to track funding that supports the WLIP as well as other programs and projects that are essential to the land information community. There is a planned legislative visit on the fall agenda, where you can join the WLIA Legislative Committee to attend scheduled visits with Wisconsin Legislators and/or their staff at the State Capitol. During the visits, the recently updated whitepapers will be distributed, which detail the importance of WLIA and the land information goals and initiatives.
The Membership and Outreach Committee completed a thorough process of researching AMS membership database management systems. This was a very extensive and time-consuming process that took all of spring and summer as there are many factors and workflows to consider. The Board voted to move ahead with a new AMS system, which will include a new website. Luckily the AMS that was selected (Novi AMS) includes training and conversion of our current website and database into the new system. It will be a few months until our new system is underway, but it will allow for more efficient operations and potentially more member benefits. The Membership and Outreach Committee has also been busy with booth exchanges and coordination of WLIA presentations at other events. There has also been outreach to universities and colleges via a new subcommittee; we will see more of this coordination with the education system at our Annual Conference.
The Spring and Fall Education Committees have done an exceptional job with planning our regional/virtual events this year. Spring's meeting was a virtual event that took place over the course of the entire month of May. The Spring Education Committee will soon be making the virtual content available to everyone on YouTube. Fall's meeting planning has been challenging with putting together an in-person event with no recent example to follow. Thankfully the committee has a lot of experience and every member provided great input to make this event happen.
The Technical Committee continues to work on updates to the Foundational Layers document; this is an extensive process that involves many sources. The Technical Committee also tracks and discusses additional datasets and initiatives in the state (NG911 gap analysis results, broadband mapping and programming, and snowmobile trails, to name a few).
I continue to be impressed by our committees as well as all of the dedicated volunteers that make our Association operate. I would like to thank our Board of Directors, Ann, committee volunteers, sponsors, participants, and many WLIA members for continuing to support the WLIA. I hope you see you at the Fall Regional Meeting and also at the 2022 Annual Conference!
Sincerely,
Carmen Novak
WLIA President