Introducing Novi AMS
Date posted
November 2, 2021
The WLIA Board of Directors is happy to announce a new partnership that will bring about some much needed improvements and changes to our organization. We have signed a contract with Novi AMS, "an association membership software built for trade associations and professional societies."
WLIA operations, as you may know, are carried out by numerous volunteers and one very fabulous Executive Services Manager. Over the last year, board members started noticing that our aging website needed some TLC and that we had some time-consuming redundancies in our membership management. Thus, a search for an association management software began. Over the course of six months, past and current board members spent many hours researching, demoing, and compiling pertinent information on various AMS options.
Halfway through, we elicited the help of a consultant to help us narrow down the field from 130 options to just four. We wanted ensure we picked an AMS that fit our needs and budget and would have the ability to support the work of WLIA and its members for years to come.
Novi AMS quickly rose above the rest as a clear choice for WLIA. In September, the board agreed with our recommendation and very soon we will begin the onboarding process with Novi.
Exciting things to come
Here are some of our most anticipated Novi features!
streamlined membership and event management (Ann will have a more efficient system)
automatic renewals (no lapse in member benefits!)
snazzy new website (ooo, ahh)
member portals (update your information and connect with other members)
3rd party integration with QuickBooks (accounting software) and MailChimp (communications)
Zoom integration (webinars!)
potential for improved member benefits (more bang for your buck!)
Acknowledgements!
A VERY big thanks goes out to the AMS research team: Ann Barrett, Jeremiah Erickson, Carmen Novak, and Kim Meinert. Their expertise, time devoted to countless meetings, and attention to detail were truly invaluable during this process.
Another big thanks goes to our consultant, Chad Stewart of SmartThoughts LLC. He came highly recommended and we were very happy to have his industry knowledge and analysis at a very critical time in our research.
We can't forget to thank Meg Palumbo, our Novi Customer Experience Specialist who answered a TON of questions, gave us at least 5 very informative demos, and was just a fabulous person to guide us through to onboarding. We think she's just the tip of the iceberg of the great Novi customer service.
Finally, thanks to everyone who participated in initial brainstorming and analysis sessions, documentation, and demos: David Buehler, Caitlin Hagar, Colleen Hermans, Jim Lacy, Jim Landwehr, Bryan Meyer, and Zach Nienow.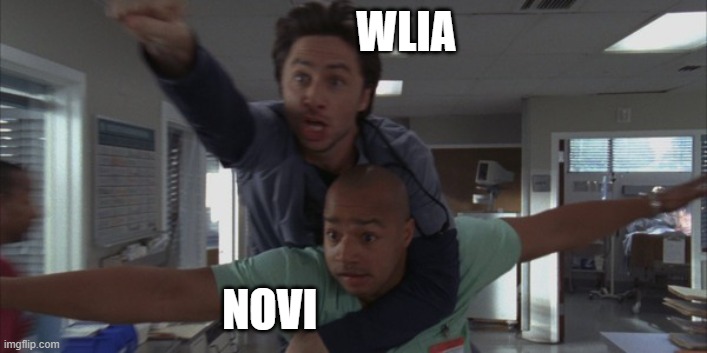 Stay tuned for more details!