Kim Meinert Receives the Outstanding Contribution Award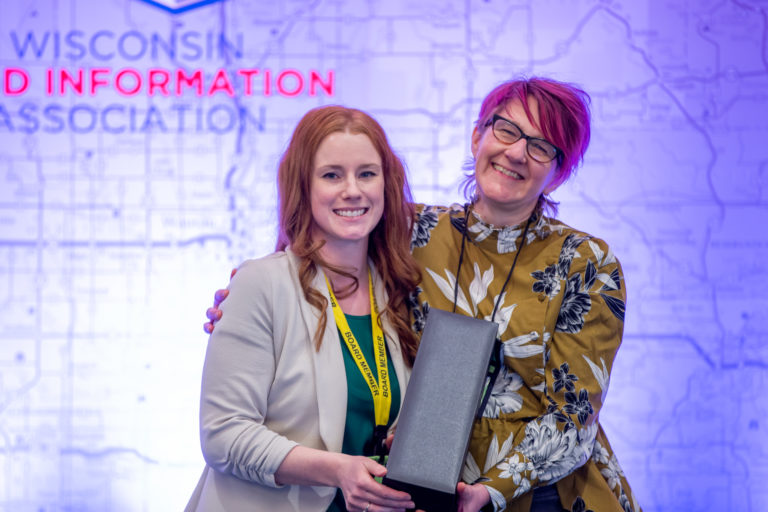 The Wisconsin Land Information Association held its 35th Annual Conference February 23rd – 25th, 2022. As part of the conference, WLIA recognized individuals and organizations for their significant achievements or service to the land information community.
Kim Meinert of the Waukesha County Land Information System Division of Parks and Land Use Division received the Outstanding Contribution Award. The outstanding contribution award is given to an individual or an organization that is a WLIA member and has made a substantial contribution to WLIA activities or the Wisconsin Land Information Program (WLIP). You may not have realized that Kim was not on the WLIA Board of Directors last year judging by her dedication. Kim was involved with numerous committees, and she continued to be an invaluable member of the WLIA.
Kim has always gone above and beyond for WLIA. She is a website guru and manages complex communication teams that deal with creating surveys, setting up forms, fixing broken apps, drafting news posts and more. All in all, when things are working smoothly for WLIA, Kim has often played a major role behind the scenes. Despite not being a board member last year you would hardly have known it. Bryan Meyer our most recent WLIA Communications Chair has given her the endearing moniker "Hurricane Kim" on account of how quickly she completes large tasks. As Bryan has stated she is a master in this craft and we are lucky to have her as a volunteer for this organization.
Kim is very deserving of the Outstanding Contribution Award. Congratulations to the outstanding Kim Meinert!