Dr. Stephen J. Ventura Receives the Allen H. Miller Sustained Service Award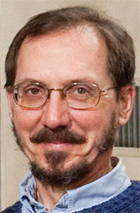 The Wisconsin Land Information Association held its 35th Annual Conference February 23rd – 25th, 2022. As part of the conference, WLIA recognized individuals and organizations for their significant achievements or service to the land information community.
Stephen "Steve" J. Ventura, Professor UW-Madison, was presented with the 2022 Allen H. Miller Sustained Service Award. The Allen H. Miller sustained service award is given to an individual or organization that demonstrates sustained service to WLIA and the WLIP, through continued exemplary contributions. The Allen H. Miller Sustained Service Award is named after the first WLIA President and longtime friend and supporter who passed away in 2021.
There perhaps is not a more deserving individual to receive this award than Steve Ventura. It was noted in his nomination that: As the WLIP gained momentum, he prepared a comprehensive handbook in 1991 entitled "Implementation of Land Information Systems in Local Government – Steps Toward Land Records Modernization," which provided guidance to local governments on how to design these systems, procure and maintain data, and manage them over time. Steve remained dedicated to the success of the WLIP in years to follow by quietly and creatively contributing to the design, planning, funding strategies, and implementation of the Program as we know it today. To date much of the success of the WLIP and its profound impact can be directly attributed to Steve's ideas and leadership.
Congratulations to Steve Ventura, a visionary who converted ideas into action!
A small selection of a few of the impactful comments shared in support of his nomination:
"Steve Ventura has been such a wonderful friend and mentor over the years. He is one of the smartest, least pretentious, and most sharing people I know. He is especially generous with collaboration and sharing feedback on ideas. He has a gift for articulating, nurturing, and magnifying the contributions to society that ideas can make. Over a career at UW-Madison you hear so much about the Wisconsin Idea, but another way to visualize just what it means would be to map how many times Steve has crisscrossed the state to effectively share his knowledge to solve a challenging community issue. There is no doubt in my mind, the man has had impact!"

– David Hart, Assistant Director for Extension, Wisconsin Sea Grant
"Steve Ventura and I attended graduate school together in the days of the "grand experiment." Engineering students, remote sensing students, and land scape architects sat together once a week to discuss topics, do projects, and just be a part of an extraordinary cross-disciplinary experience. We all grew from this experience and met and became friends across college boundaries. Steve was always a steady hand and always ready to pitch in and lend a hand, to go to the field and always willing to share and teach. But most of all he was always ready with a smile and laugh. I miss Steve's 'we can do this' approach to everything. He is never daunted, and he is always in good cheer. To me, that exemplifies the entire Wisconsin Land Information Program from its early beginnings to now – 'sure, we can do that.'"

– Nancy von Meyer, President, Fairview Industries
"Steve is one of the most dedicated and compassionate champions for the preservation of natural resources and the promotion of environmental justice and sustainability using spatial information tools, data, and lots of advocacy work. Over the 30 plus years that I have known Steve, I have seen his exemplary service in his work at UW-Madison and his volunteer work with environmental professional organizations. I have seen him as a professor, supervisor, administrator, and mentor to thousands of students, employees, and colleagues."

– Tom McClintock, UW-Madison
Select State and National Service Roles Held by Steve Ventura
• Dane County Land Information Council (2011- 2018)
• Organizer – working group for creation of Wisconsin Geographic Information Coordination Council (2006- 2009)
• Co-Chair, URISA Public Participation GIS Conference, (2004)
• URISA Journal Editor-in-Chief (2003-2007)
• URISA Journal Editorial Board (2000-2003)
• President (1999-2001), Board of Directors (1994-1999), and Chair, Education Committee (1994-1997), Wisconsin Land Information Association
• Wisconsin Land Information System Project Team (1999-2000)
• Wisconsin Land Council, Technical Work Group (1998-1999)
• Chair, UW-Madison Spatial Information and Analysis Consortium (1996-2002, acting chair 2003 & 2007)
• Wisconsin Land Information Board GIS Data Exchange Standards Committee (1996-1997)
• County-wide Land Information Systems Committee, Chair – Resource Economics Subcommittee (1992-1993)
• UW Representative, National Center for Geographic Information and Analysis, Initiative 9 – Institutions Sharing Geographic Data (1993-1995)
• ASPRS Representative to Federal Interagency Coordinating Committee on Digital Cartography (1991-1993)
• Chair – Environment and Natural Resources Special Interest Group, URISA (1990-1994)
• Chair – Local Government Technology Assessment Committee, WLIA (1990-1992)
• UW Representative, National Center for Geographic Information and Analysis, Initiative 12 – Remote Sensing/GIS Research Issues (1989-1991)
---
As part of accepting the award, Dr. Stephen J. Ventura provided this video response. Congratulations to Dr. Stephen J. Ventura!