Member Spotlight: Jennifer Borlick
Date posted
September 15, 2023
We've brought back the Member Spotlight series so we can all get to know each other better. Do you know a WLIA colleague that you think people should know? Let us know at communications@wlia.org and send us their contact information. We may not get to everyone, but we'll try!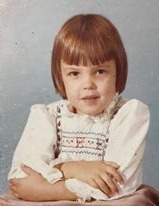 Introducing Jennifer Borlick, the current President of the Wisconsin Land Information Association and a true wizard when it comes to maps. With sixteen years of dedicated service as the GIS Manager at Rock County, it's evident why she now holds this esteemed position – her track record consistently demonstrates her leadership and collaborative spirit. Jennifer's warm and approachable demeanor makes her a standout presence within the WLIA community, always eager to generously share her wealth of experience with fellow GIS enthusiasts. Beyond her professional life, Jennifer's interests are as diverse as they are delightful. If you get the chance to talk with her at any of the upcoming conferences, you'll undoubtedly find yourself delving into a fun conversation.
How did you come to your current profession or job?
I am one of those GIS Professionals that "ended up" here. My first career was Interior Design, which I realized after investing in that education and a year on the job was not as fulfilling as I would have hoped. At about the time that I was contemplating that life, the Exxon Valdez Oil Spill happened and realized that I was in entirely the wrong career. I needed to be doing something with Natural Resources and Wildlife. I spent another few years getting my science credits in (because Fine Arts doesn't transfer to science classes) and then transferred to UW-Madison where I obtained a B.S. in Wildlife Ecology… and then couldn't find a job that would pay the bills. One of my neighbors was doing this thing called "GIS" and mentioned that UW-Madison was starting a Graduate GIS Certificate and that would help bolster my resume, so back to school I went.
While working on that, I started working for the Wisconsin Department of Natural Resources and the (now closed) University of Wisconsin-Madison Land Information and Computer Graphics Facility (LICGF). At LICGF I was helping to write training materials for Esri ArcView and its extensions and this new product they were launching called ArcGIS. After receiving my certificate, I stayed on at LICGF and became an Esri Authorized instructor and a training associate. This is also where I learned of WLIA. I was part of a keynote panel in 2002 led by Ben Niemann, who was the director of LICGF at the time, and continued my involvement with WLIA ever since.
So, how did I land my job at Rock County? During the same time that I was running training classes at LICGF, Rock County was transitioning from GenaMap to Esri. Rock County employees would regularly attend the training over the years, and I would joke around with them about when a position would open up. In 2007, the GIS Manager took a job with the private sector and I applied for his job and got it. I enjoyed my work at LICGF but it was time to move on. I have been here ever since.
What's your most favorite part and least favorite part of your job?
What I enjoy most about my job is working with people to solve problems. I love the "aha" moment when everything clicks and just… works. I really enjoy networking with peers and working together to come up with solutions, and then communicating those solutions to others who need them.
The least favorite part of my job? Metadata. It's so important to have, yet no fun to do at all. I'm not just talking about GIS layers. I'm talking about my whole job. When I started at Rock County there was not a lot of documentation for the process in which things got done. I don't want the next person that steps into this role to have to figure out things from scratch. Even if they want to scrap everything that I've done I want them to have the knowledge as to how it got that way to begin with. So, I've been documenting (almost) everything.
What is your favorite décor in your office space?
It's really hard to say what my favorite décor is. I have so much! I figured if I was going to be spending 40 hours a week of my waking hours here, I would bring the things that give me joy. A lot of that is from various fandoms. The largest collection I have here is my Pop! Figure collection. I repurposed an old CD rack in a display case. I have also recently started adding plants. I have the offspring of a pothos that recently retired member Jenny Reek first brought to this office during her stint here. My latest addition is a Yucca that I got from IKEA for $1 in the as is section. Some of the leaves were turning yellow, so they pulled it from the plant section. I happened to be there when they were putting them out. How could I not? I'm slowly bringing it back. I don't really know a lot about houseplants so we'll see how it goes.
What do you like to do for fun? (Hobbies, volunteer work, etc.)
Anybody who has talked to me for more than 5 minutes can probably figure out that I'm a Disney fan. This is a new hobby. My first trip to Disney World was in 2017 and I became hooked. I've been back a few times with a couple of trips to Disneyland as well. I am also more than a geogeek. I have many fandoms including Doctor Who (classic and new), Star Wars, Star Trek, Marvel (I would like to be a DC fan but they just can't make good movies), Dungeons and DragonsTM, board games, etc. I also collect yarn, and occasionally crochet. I also enjoy a good beer and whiskey. My husband, Scott, is a home brewer so we are always looking out for good flavor profiles.
Where is one place you have always wanted to travel and why?
I've always wanted to travel to the UK and Great Britain. I want to visit old places and buildings and spin Julie Andrew's style in a pasture of wildflowers. (Yes, I know she was in the Alps.) Maybe roll down a hill, and not because I tripped and fell. See Stonehenge and Westminster Abbey and the Tower of London. Visit a fairy circle in the mists of Ireland. Hear bagpipes in Scotland. And of course, go to Paris to see the Eiffel Tower and Disneyland Paris.
What's something most people wouldn't guess about you?
My husband and I got married on a pirate ship, and quite coincidentally, on International Talk Like a Pirate Day. Well, technically it was the Siren's ship as Treasure Island in Las Vegas, but our ring bearer was a pirate swinging down from the rigging. (If you aren't one to have to deal with wedding planning, I highly suggest a Vegas wedding. It's not just for eloping. You can have a gorgeous wedding and leave the stress of everything to someone else.) Scott and I met doing military history reenacting at the Bristol Renaissance Faire (BRF), so this seemed like a fun way to celebrate the start of our lives.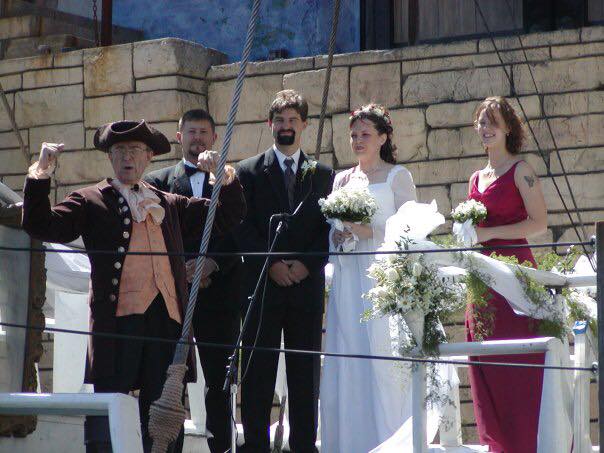 As a Ren Faire fan, what's one thing you would never want to miss out on or a favorite part of the Faire you wish everyone knew about?
I haven't been out to the Faire in a few years, but my close friends are still there. My heart is with the Guilde of St Michael, aka The Military Guild. They have an encampment between the tiltyard and Queen Elizabeth's Court. The group is a military history group, so you can learn about lots of things including weapons, armor, day-to-day living, barber-surgery, muskets, etc. The part I miss the most of all of that, besides the comradery, is the smell of black powder and firing the muskets and cannons. The Director, Chris Last, was the best man at our wedding. (His wife, Heather, shooed off drunk hecklers.) They and a couple of our friends, Shelly Kakouris and Kyle Cook, own the Janesville Renaissance Faire which is a single weekend fair that is a fundraiser for scholarships and local charities. That faire in itself is a little gem and is becoming a mainstay of some of the acts that "travel the circuit." There is high quality entertainment, crafts and food. You can see me running around helping out where I can, and Scott at the beer tent. Chris and Scott also do a historical beer and mead tasting and lecture that is always well received.
If you could live in one fictional world (literature, film, television etc.), what world would it be and why?
Not necessarily a world per se, but I would love to be a companion of the Doctor. To be able to go anywhere in time and space? That would be fantastic. While some of it would be terrifying, meeting people like Vincent Van Gogh, Rosa Parks and the Face of Boe would make up for it.
Okay, last follow up question - I promise. Do you have any favorite fantasy sci-fi or fantasy maps?
I get giddy when I look at fantasy maps. I love them. I don't have a favorite map, exactly, but my favorite fantasy map cartographer is Deven Rue. She does maps for Wizards of the Coast, Critical Role and others. I subscribe to her Patreon because she is an amazing person and has a fantasy map drawing course that I keep telling myself to take. She's the artist behind the fantasy map nail wraps that you will sometimes see me sporting at conferences.