Fall Regional Spotlight: Geotourism and Sea Grant Geospatial Projects
Date posted
October 7, 2022
As we move into fall, it's time to look a little closer at all the great content we have lined up at the Fall Regional Meeting in Sheboygan on October 26-28 at the Blue Harbor Resort!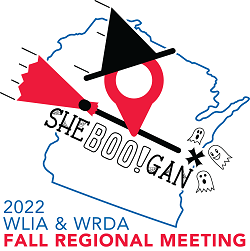 Learn how GIS is used as a critical tool for geotourism. The Friday morning presentation, You can't have GeotourISm with out GIS will be led by Eric W. Fowle with the Niagara Escarpment Resource Network. In June of 2022, the Niagara Escarpment Resource Network, a partner program of the Lakeshore Natural Resource Partnership, launched the first formal geotourism program for Eastern Wisconsin's Niagara Escarpment corridor, the WI-LEDGE Geotourism Program. The importance of sustainable tourism will be a focus!
The final presentation of the Fall Regional Meetting will cover Wisconsin Sea Grant Geospatial Projects delivered by David Hart with the Wisconsin Sea Grant. The Wisconsin Sea Grant has a portfolio of geospatial projects. They include the coastal atlas, an enhanced coastal public access inventory, geodesign for green stormwater infrastructure, a couple coastal resilience planning & decision tools, and place-based learning activities called Great Lakes Quests. There's no better place for such a presentation than on the shores of Lake Michigan! We hope to see you at the Fall Regional Meeting!
For more details on the agenda, registration, and hotel information, visit the Fall Regional Event Page. We hope to see you soon!