Get a Fall Regional Shirt and Glow with Us!
Date posted
October 6, 2022
The WLIA Fall Regional Meeting is nearly here…just in time for Halloween! Have you picked your costume and registered yet?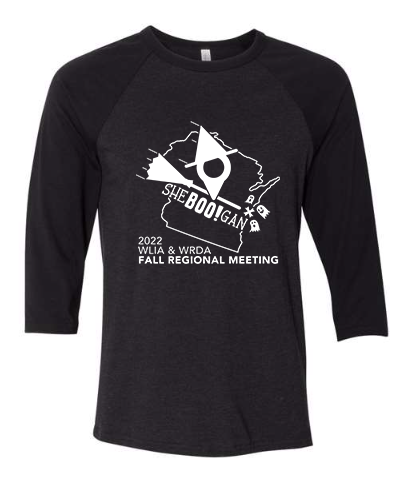 Starting now, you can order a spooky WLIA Fall Regional shirt! Featuring your favorite mapping mascot, Rosie the Map Pin dons her costume while flying to our meeting in SheBOO!gan. This raglan ¾ sleeve shirt (heather black body, black sleeves) is printed in *GLOW-IN-THE-DARK* ink so that you and Rosie will be seen in all lighting situations! If you don't feel like getting a costume this year, just throw this shirt on and you will be the life of all your Halloween parties!
Click here to buy a shirt. We will take orders through 4:30 p.m. on Tuesday, October 11th, and we'll have a small inventory for sale at the WLIA Fall Regional Meeting.
Meeting attendees will receive their shirt at the meeting, and shipping options will be arranged with additional shirt buyers.
WLIA – getting you ready for a Mappy Halloween since 1987!