Get Ready for a Scary Good Time!
Date posted
October 19, 2022
Wondering what you need to remember for the best Fall Regional Experience next week? Curious about what's going on besides what's in the agenda? We've got you covered.
Auctions and raffles!
We had such a favorable result from our mini-silent auction last spring, we're bringing it back! One of the items to bid on was graciously donated by Visit Sheboygan:
This brat and beer basket represents Sheboygan as the Bratwurst Capital of the World. Enjoy a craft beer or two with these "I'm Into Crafts" glass pints, with some cute towels to wipe up any spills, or play it safe with these plastic mugs touting "I'm on my Wurst Behavior". Of course a shot glass rounds out the beverage theme and a heavy duty trivet is the perfect place to place up your freshly grilled brats. You'll want to tell your friends about Sheboygan and we've included a few postcards to show them. Cheers from Sheboygan!
We've also got a set of 2 tickets donated by Road America for the 2023 SVRA Vintage Festival Weekend valued at $150! We just might have some other surprises too. Bring cash, check, or credit for this fun opportunity to benefit the WLIA Foundation. We'll of course be bringing back our famous 50/50 lunchtime raffle, and cash is king there!
Not to be outdone, on Thursday night after dinner, we'll get to share in the WI Register of Deeds perrenial favorite live auction as well! For those of us who haven't experienced a WRDA auction, we hear it's a good time (and it also funds a good time). Bring cash or check, get your number, and check out all the interesting items they get from around the state!
Get cozy with our WRDA friends!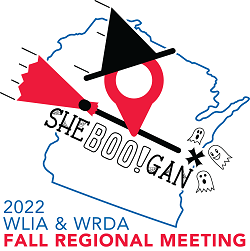 Don't forget to pack some layers, as we'll be enjoying bonfires on both evenings on the shore of Lake Michigan. We'll even have s'mores to toast, so make sure to dress for the weather and get in touch with your inner kid. Don't worry, if you need something to warm you up, the bar will be there for you 6:30-11 on Wednesday and 4-11 on Thursday. After a day of inspiring content, relax at the WRDA Exhibitors Reception on Thursday from 4-5:30 - talking shop is optional. (LIOs and adjacent, you get to hang at your LION Meeting from 4-5.)
And one more thing...
Please remember our photo policy as you snap those pics for your memory book. If someone has a red lanyard on, do your best to keep them out of the shot and don't share their photo online.
Don't forget those tax-exempt forms. See you next week at the Blue Harbor Resort!
---
For more details on the agenda, registration, and hotel information, visit the Fall Regional Event Page. We hope to see you soon!