Jason D. Poser
Date posted
February 3, 2021
It is with a heavy heart that I share, Jason Poser, a fellow board member, has passed away after a short battle with cancer at the age of 48. Jason, the Land Information Coordinator and designated Land Information Officer for Buffalo County, began his tenure there in 2014. Word spread quickly about what Jason was able to accomplish in Buffalo County as he modernized their land records system. Jason's efforts were notable and showed that a rural county could succeed in effectively providing services one would typically only expect in urban counties at the time.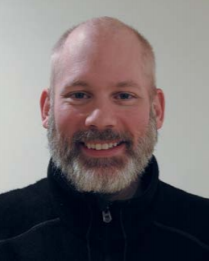 Jason was elected to the WLIA Board of Directors in 2019. Last year as Spring Education Chair he oversaw our first ever Spring Virtual Meeting. Jason is on our ballot for re-election to the WLIA Board of Directors for 2021-2023.
It is truly tragic that he is gone and he will be missed by many. Jason will be remembered for his warm personality, easing going attitude, and passion for learning. You can honor Jason's legacy and commitment to community by mentoring students interested in GIS.
Our condolences go out to his family, especially his wife, Greta Poser, Associate Professor, GIS Masters Program, at Saint Mary's University of Minnesota, and his sister, Caitlin Hagar, GIS Analyst, with the City of Onalaska.
A celebration of life will be held at a later date. In lieu of flowers, memorials may be given to the Wisconsin Land Information Association Foundation for student scholarships. You may donate directly to the foundation here: Wisconsin Land Information Association Fund.
You can access Jason's full obituary and service information below and view and share your comments and stories about Jason under tributes as well as our prior news posts. You will see he was loved by many.
Jason's Obituary & Service Information