Spring Regional Spotlight: Bringing Broadband Mapping into Community Hands
As the Spring Regional Meeting approaches, we bring you highlights from the agenda. Today, we take a closer look at the presentations addressing Broadband Mapping on Wednesday. If you haven't registered yet, head on over to the Spring Regional Event Page for registration and hotel information!
Broadband mapping and community planning continues to be a crucial mapping topic in Wisconsin and across the nation. The WLIA Spring Regional will address this with an array of voices and updates that have impact on Wisconsin's effort to be better connected to Broadband. On Wednesday, May 25th, WLIA will host these perspectives at the Spring Regional:
Broadband - New Software Introduction & Pilot: In late 2021, Wisconsin economic development groups have been working to roll out a crowdsourced Broadband speed measurement tool and planning aide, known as GEO, for communities to plan their Broadband deployment. Brittany Beyer and August Neverman will present on the results of a Brown County pilot project and their early efforts to deploy GEO throughout the state.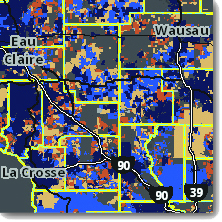 Broadband - Follow-Up Panel: This follow-up panel will cover a variety of Broadband topics, including the Wisconsin Internet Self-Report and GEO tools to consider broadband quality and performance. There will also be discussion about the new Broadband mapping standards coming from the Federal Communications Commission and their likely impact on mapping Broadband statewide. This panel will also include an open Q & A session with the panelists. Panelists are anticipated to join us from the Internet Service Provider community, Langlade County, and the Public Service Commission of Wisconsin.
If you have any questions on this part of the WLIA Spring Regional, feel free to contact Joe Martell and Colter Sikora. We are looking forward to seeing you on May 25th!