Remembering Trish Nau
Date posted
October 3, 2022
The Wisconsin Land Information Association would like to offer our heartfelt condolences for the loss of Trish Nau, who passed away unexpectedly last week. Trish served on the Board of Directors from 2012-2014 and was a valued member of WLIA for many years. Trish worked as a Park and Recreation Planner for the State of Wisconsin at the East Central Regional Planning Commission for over 25 years. She had recently accepted a position with the Village of Harrison. Trish was an amazing colleague and friend to many; she will be missed.
---
WLIA friends share memories of Trish:
Like many from Wisconsin who work in Recreation Planning, GIS or Land Records, I had the pleasure of knowing and working with Trish. She was passionate about her work and was a natural leader. Trish was just as willing to serve on a board as to guide someone new to our community. When I had the opportunity to work with Trish, she led by example doing the technical work, building collaboration, and empowering the people around her. Trish's authenticity and kindness will continue to live on in the people she knew. Please keep her daughter and family in your thoughts. --Adam Dorn
It is a shock to lose someone so full of life so suddenly. Trish was one of the first people to welcome me to the WLIA community. Maybe she reached out to me because I was a fellow Pointer alumni. Maybe it was that I had been a fellow Planning Commission employee. Regardless of how our paths initially crossed, I tend to believe it was simply that she was a wonderful, caring person reaching out to me. Trish quickly became one of the first people I looked for at every conference. We were elected to the WLIA board together back in 2012, where she continued to show her warm personality and dedication to connecting our close-knit community. Trish's career migrated to more planning than GIS, so I saw her a little less, but we always remained in touch. I know many others will have similar memories of Trish and she will be terribly missed. --Adam Derringer
---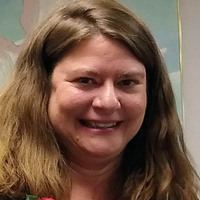 Read the full obituary and please keep Trish's family in your thoughts during this difficult time.