2023 Annual Conference
Annual Conference at the Kalahari Resort
---
Wednesday, February 22, 2023
at
8:00 AM (CST)
to Friday, February 24, 2023 at 2:00 PM (CST)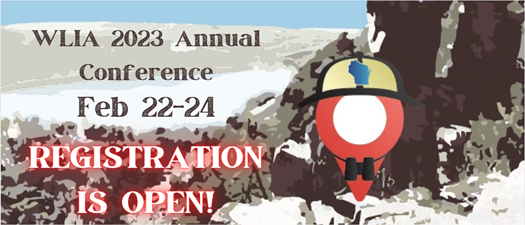 We welcome our keynote speakers, Owner and Founder of Key Change Consulting, LLC Dr. Marcus Lewis, Ho-Chunk Nation Preservation Representative
William "Nąąwącekǧize" Quackenbush , and Esri Education Manager Joseph Kerski to our Annual Conference!
---
Important Information:
Hotel Information
Be aware that the Kalahari is requiring tax-exempt forms be e-mailed to dellscallcenterfax@kalahariresorts.com or faxed to 608-254-6116 no later than 7 days before the conference. Visit their FAQ for more information on their policies.
**The room block has ended, however the Kalahari will honor the room rates as long as there are rooms available.**
---
Exhibitors and Sponsors
See our Sponsor Page to visit and thank our sponsors!
---
Virtual Option
Can't attend in person? Join us virtually for the keynotes and six select presentations at a reduced price! Register here.
---
Final Program
The final program is ready in PDF and Mobile formats. **Please note, that Mobile agenda has the most up to date information as changes occur during the weather event.**
---
Floorplans
Trying to figure out where to go? Plan your safari with the conference floorplan and exhibitor hall floorplan.
---
Volunteers Needed
Volunteering at the Annual Conference is a great way to meet new people, network and give back to the community. We are currently looking for Map Contest Judges, Student Volunteers, Silent Auction Volunteers and Moderators.
---
Our famous WLIA Foundation Silent Auction is back! If you have a fun item to donate or want to provide an experience to a WLIA Member, use our Silent Auction Donation link to enter the item and upload a picture. For more information, see this news post. For online bidding, make sure your account is ready to go!
---

Click the image above for all the important details you'll need to enter your maps and applications! Do you want to see what's been entered? Click here.
Agenda at a Glance
Wed Feb 22
9:30a - Morning Workshops
12:30p - Lunch
1:30p - Afternoon Workshops
2p - WLIC
4:45p - LION Meeting
Thurs Feb 23
7a - DEI SIG
8a - Breakfast with the Exhibitors
8a - New Member Session
8:30a - Morning Plenary and Keynote Bill Quackenbush
10:15a - Exhibit Hall Opening
10:30a - Sessions
12p - Lunch, 50/50 Raffle, Town Hall Part 1, Platinum Sponsor Spotlight, Keynote Dr. Marcus Lewis
2p - Sessions
4p - SIG Meetings
5p - Exhibitor Reception
Friday Feb 24
8a - Breakfast with Exhibitors
8:30a - Morning Plenary, Gold Sponsor Highlight and Keynote Joseph Kerski
9:30a - Exhibit Hall Break
10a - Silent Auction Ends
10:30a - Sessions
12p - Lunch, Town Hall Part 2, Awards, and Prizes
2p - New WLIA Board Meeting
For More Information: