2023 Annual Conference
Annual Conference at the Kalahari Resort
---
Wednesday, February 22, 2023
at
8:00 AM (CST)
to Friday, February 24, 2023 at 2:00 PM (CST)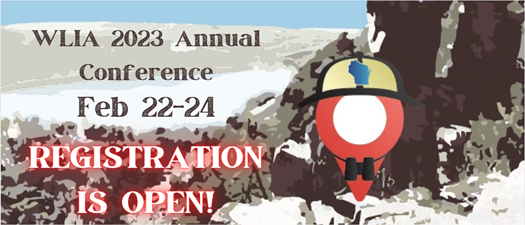 View the Schedule two ways!  The mobile-friendly Sched is up and running so you can customize your conference experience, or view the Preliminary Agenda pdf.
---

We welcome our keynote speakers, Owner and Founder of Key Change Consulting, LLC Dr. Marcus Lewis, Ho-Chunk Nation Preservation Representative
William "Nąąwącekǧize" Quackenbush , and Esri Education Manager Joseph Kerski to our Annual Conference!
---

Our famous WLIA Foundation Silent Auction is back!  If you have a fun item to donate or want to provide an experience to a WLIA Member, use our Silent Auction Donation link to enter the item and upload a picture.  For more information, see this news post.  For online bidding, make sure your account is ready to go!
---

Click the image above for all the important details you'll need to enter your maps and applications!
---
Agenda at a Glance
Wed Feb 22
9:30a -  Morning Workshops
12:30p - Lunch
1:30p - Afternoon Workshops
2p - WLIC
4:45p - LION Meeting
6p - The Opening
Thurs Feb 23
7a - DEI SIG
8a - Breakfast with the Exhibitors
8a - New Member Session
8:30a - Morning Plenary and Keynote Bill Quackenbush
10:15a - Exhibit Hall Opening
10:30a - Sessions
12p - Lunch, 50/50 Raffle, Town Hall Part 1, Platinum Sponsor Spotlight, Keynote Dr. Marcus Lewis
2p - Sessions
3:30p - Map Gallery Opening
4p - SIG Meetings
5p - Exhibitor Reception
Friday Feb 24
8a - Breakfast with Exhibitors
8:30a - Morning Plenary, Gold Sponsor Highlight and Keynote Joseph Kerski
9:30a - Exhibit Hall Break/Silent Auction Close
10:30a - Sessions
12p - Lunch, Town Hall Part 2, Awards, and Prizes
2p - New WLIA Board Meeting
IMPORTANT HOTEL INFO!
Be aware that the Kalahari is requiring tax-exempt forms be e-mailed to 
dellscallcenterfax@kalahariresorts.com 
or faxed to 608-254-6116 no later than 7 days before the conference.
Visit their FAQ for more information on their policies.
New abbreviated Virtual Option!
Can't attend in person? Join us virtually for the keynotes and six select presentations at a reduced price! Register here.
For More Information: